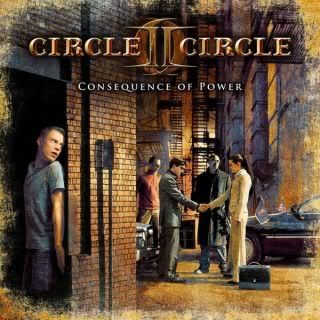 Zak Stevens was the primary vocalist for Savatage for most of the 90's. After the disbanding of the band in 2001 he started his own project called Circle II Circle. I'm not too big a fan of the name but the early albums were definitely a continuation from his stint with the 'tage and that makes it ok. Circle II Circle is one of those rare bands that while they have power metal tendencies they focus more on songwriting and riffs. It's not overly cheesy as you'd might expect but does incorporate concepts in some of the albums like alot of prog or power metal bands do.
Apparently the latest album 'Consequence of Power' was released in September and I somehow missed it. Probably because this group gets real no press or love even in the blogosphere. I'm listening to it right now and it's not bad. There are more hard rock elements this time around and Zak seems to be oversinging in places but it's still stronger material then what Jon Oliva has done on his Pain project. So if you want no frills, thought provoking, hard rock music check out this band. You might be pleasantly surprised. Or you could tell me what I tell others that some bands never make it big for a reason.
After the jump is one of my favorite tracks by them. Probably because of the heavy Savatage influence.