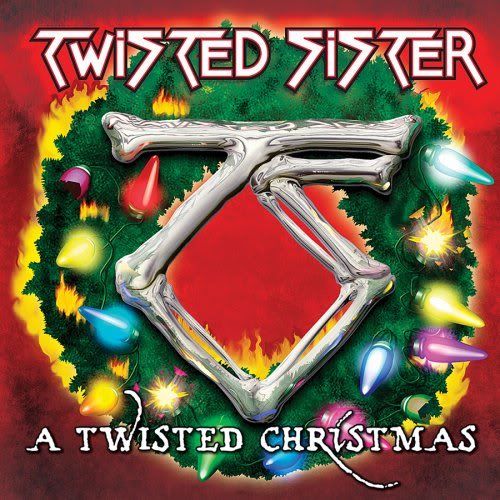 Here we are again; early December and you're getting into the holiday spirit. Shopping, hanging lights, putting up the tree and decorating it with crazy and unusual ornaments you've collected over the years and you're looking for that perfect Christmas CD to make the scene perfect. But what to listen to? You're not a Celine Dion or Micheal Buble' type. Holiday standards just doesn't do it for you anymore. How's about trying out a metal/hard rock Christmas CD? As Rob Liz has offered in his review of "Merry X-Mas and a Headbanging New Year" it's not all that bad? Why not give Twisted Sister a try?

On second thought, maybe you should read this before you go out and spend the 15 bucks on it. This is a heinous CD from some of the pioneers of Eighties Metal and though this is the TS we all know and love with the whole band reuniting, this is more camp than cool. Even guest musicians and iconic female front-women from days of old, Lita ford and Doro Pesch can't keep this trainwreck afloat with their perfectly round fake flotation devices. The sad part is that this isn't supposed to be a joke cd, these guys are SERIOUS... Seriously??? Here's a real time review song by horrible song.

01. Have Yourself A Merry Little Christmas
It starts off with Dee trying the whole traditional, easy listening voice (which sounds like crap) and is "interrupted" by one of his old cronies to remind him that they're Twisted Sister and they're supposed to RAWK! By the way fellas, I'm still waiting for it to rock....




02. O Come All Ye Faithful
This is the ONE saving grace on this cd.. only because within the "come's" the "ye's" and the "faithful's" their biggest and best hit "We're Not Gonna Take It" is woven into the fabric of this travesty, which somehow makes it awesome. I think, for me, being that this is kind of a joke (again, not intentional) and using their song with that timeless guitar solo in it, makes this brilliant. I think maybe if they could have done that with other songs, meshing in their music with these standards, it would have made the whole experience more tolerable. This official music video below, is also a throwback to the days of old where we have a protagonist who just "wanna rock" and an overbearing asshole who's trying to keep a brotha down. It's good to see that the majority of Twisted Sister has packed on some extra pounds for the winter since they'll be going into hibernation soon.




03. White Christmas
Back to the suck. Another standard just butchered by the guys. It's basically tone for tone and note for note the same as all the originals, but with . . . Wait for it . . . heavy guitars!!! Apparently Doro does background vocals here. Couldn't tell. Next.




04. I'll Be Home For Christmas
Here we have yet another standard, this time with the beautiful and immensely talented Lita Ford. This one's yet another abysmal song in a long list of mistakes and failures on this CD, but Lita Rules (seriously, did you see the Runaways movie? I reviewed it HERE. It's fantastic!) This song, not so much.




05. Silver Bells
I'm not sure what one is worse: the Geoff Tate one of this one. Hmmm... I hate to say it, but I think the Geoff Tate vocals are worse.. Dee's voice might suck on this album, but at least he's in tune. The video is just like O Come All Ye Faithful, except it's a different song. I think this was the same way with their older hits.. I guess if the formula works, don't deviate.





06. I Saw Mommy Kissing Santa Clause
Need I say more?




07. Let It Snow
This one's NOT so bad, it's not so good either. More tolerable than the rest, but again.. it's basically EXACTLY the same arrangement as the other originals on this CD, there's no really making it their own (Oh shit, I sound like American Idol here).. But seriously, fucking try something different instead of just adding heavy guitar riffs.




08. Deck the Halls
Bloody hell... Next!




09. The Christmas Song
Who's Chet and why are his nuts roasting? Merry Christmas Dee, please stop.




10.Heavy Metal Christmas (The 12 Days of Christmas)

On my heavy metal Christmas my true love gave to me,
12 silver crosses
11 black mascaras
10 pairs of platforms
9 tattered t-shirts
8 pentagrams
7 leather jackets
6 cans of hairspray
5 skull earrings
4 quarts of Jack
3 studded belts
2 pairs of spandex pants
and a tattoo of Ozzy!



If you want a brilliant 12 Days of Christmas, I think it might be best to go with the classics - try this one on, it's a million times better.



A Turkey and some mistletoe might make this season bright, but this CD will make your ears bleed. Please do yourself a favor and pass this one up. Take the money you WOULD have spent on this and buy someone a quality cd, like maybe Sully Erna's CD "Avalon". You can read more about it here.









Please visit and spread the word about these Links:


Songs of the Goddess - For and about all things Pagan music.
and
That Devil Music - For the best in Hard Rock and Metal.


That Devil Music's Last FM page!

E-Mail That Devil Music!