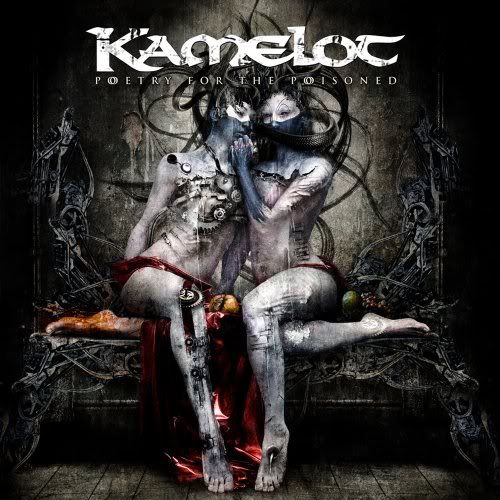 Second times a charm right? As some of you may recall we spent alot of time wailing and gnashing our teeth about what appeared to be the collapse of Kamelot following the release of Poetry for the Poisoned. Roy Khan's mysterious ailments and the attempt to bring in a last second vocalist then European tours that did not include their frontman yet again so Fabio from Rhapsody of Fire took over. Well the boys are going to make a go as promised of a tour in North America starting in August. Still without Roy Khan. Here is the release announcement from Kamelot's site.

In the ongoing Kamelot campaign for their newest release, "Poetry for the Poisoned", we are extremely pleased to announce that Kamelot have confirmed a full North American Tour!


The long awaited North American Tour, to support the Billboard Charting Epic "Poetry for the Poisoned" (Peaking @ number 74 in the US on Billboard's Top 200!), has been solidified. Along for the ride, are folk/power metalers Alestorm, who are happy to bring their brand of "Pirate Infused Metal" to the Kamelot Legions. Also, aboard are Canada's ferocious Blackguard and The Agonist.
This time though Roy Khan did release a statement on his condition.
"Hello All! I am here in Norway still recovering from what seems to have been a severe burnout syndrome. I am getting better but still under medical care. My priorities at the moment are my health & family. My future endeavors in Kamelot and music in general are being evaluated, however at this time my focus is on getting back on my feet and spending time with family and friends. Thank you for your prayers and well wishes!" - Roy Khan.
Fabio Leone of Rhapsody of Fire will continue to front the band on this tour. Tour dates and some words after the jump.
PANDEMONIUM OVER NORTH AMERICA 2011
special guests: Alestorm + Blackguard + The Agonist
——————————————————————-
26.08.2011 – ATLANTA, GA – THE MASQUARADE
27.08.2011 - WEST SPRINGFIELD, VA – JAXX
28.08.2011 – PHILADELPHIA, PA - THE TROCADERO
30.08.2011 – NEW YORK, NY - THE GRAMERCY THEATRE
31.08.2011 – WORCESTER , MA – THE PALLADIUM
02.09.2011 – MONTREAL, QUE – CLUB SODA
03.09.2011 – QUEBEC CITY, QUE – IMPERIAL DE QUEBEC
04.09.2011 – TORONTO, ONT – MOD CLUB
06.09.2011 – CLEVELAND, OH – PEABODY'S
07.09.2011 – DETROIT, MI – BLONDIE'S
08.09.2011 – CHICAGO, IL – BOTTOM LOUNGE
09.09.2011 – ST.PAUL, MN – STATION 4
12.09.2011 – SEATTLE, WA – EL CORAZON
13.09.2011 – PORTLAND, OR – PETER'S ROOM
14.09.2011 – SAN FRANCISCO, CA – SLIM'S
15.09.2011 – WEST HOLLYWOOD, CA – HOUSE OF BLUES
16.09.2011 – TEMPE, AZ – CLUBHOUSE
17.09.2011 – SALT LAKE CITY, UT – THE COMPLEX
18.09.2011 – DENVER, CO – BLUEBIRD THEATER
20.09.2011 – DALLAS, TX – TREES
21.09.2011 – HOUSTON, TX – SCOUT BAR
23.09.2011 – ORLANDO, FL – THE CLUB AT FIRESTONE
I bet Thomas Youngblood and the rest of the guys can't wait for this album cycle to be over with. What a disaster. Wrap up this tour and then evaluate where to go from here. Because let's face it, Roy Khan makes this band. While musically Kamelot is good there never was anything particularly groundbreaking about it. Roy Khan's vocal style in a sea of mediocrity and growls is what stood out. And that statement he released does not bode well for him continuing on in Kamelot.
So the tour is still taking place but with a singer that I can't imagine will do the setlist justice because Fabio is an atypical power metal vocalist. Not to mention, and I'm going to get some shit for this from you know who, terrible and tiresome band support from the Agonist,Alestorm and Blackguard. Why is Blackguard on every fucking tour that comes through here? Well this time there should be some new tunes at least. So I don't know. I'm not going to this but knock yourself if this news still excites you.