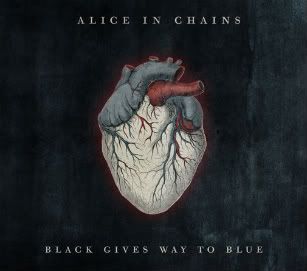 Sadly I was not able to attend the AIC concert this month at the Fox Theater in Oakland but lucky for us all I know someone who did. My good friend Martin from Malastrana and his wife attended and brought back a report.

Martin wrote:


Alice in Chains - Thursday Feb 11, 2010 - 8pm - Fox Theater - Oakland, CA.

One note about the Fox Theater: AMAZING VENUE for a show! Great sound! Great layout.

AiC played 19 songs over two hours. And I got a pick! (Not sure if it's Jerry's, Mike's or William's though, they tossed them at the same time).
The show was amazing. Laurie and I were on the floor about 10 people back from the stage, just left of center. The band was 110% on! They were all very humble and cool on the stage. Jerry, Mike, and William each moved around the stage so that everyone could see what they were doing. So we all got a closeup.

Jerry's playing and singing was fantastic. He doesn't think of himself as a shredder, but the guy has major chops and he showed them off. Mike had a huge smile on his face the entire show. He is a badass bassist. Sean was phenomenal behind the kit. The guy plays some of the craziest-grooviest rhythms with such ease. At times he'd add some double-bass fills and death metal beats. And last but not least, William was great! He is a great singer. In fact, I was surprised to see him singing a lot of songs I thought were Jerry (such as "Last Of My Kind"). His stage presence was pretty good. He was calm and collected and able to get the crowd to sing, chant, clap, jump, etc. He too had a huge smile on his face. The crowd was very supportive as well.

I can see why Jerry wants him in the band. He is not Layne, nor does he pretend to be. He is a good addition to AiC that can compliment Jerry's voice. One must remember the power of AiC was in the complimentary vocal style of both Layne and Jerry. Now it's William and Jerry, and it still works. William sung all the Layne songs perfectly. For instance, William sang "Nutshell" and "Love, Hate, Love" (where Layne really let out his soul) in such a way, that if you closed your eyes, you thought it was Layne. To clarify, William really gets into the emotional feeling of the lyrics and music and interprets it in such a way that he pays tribute to Layne's abilities. In addition, William plays solid guitar and even does some of the solos.

I was impressed by the entire band. I am happy they found a singer that can compliment AiC, do Layne justice, and resurrect the best band to come out of Seattle from that era. Their new stuff is just as good as their old stuff. It's like meeting up with an old friend you have not seen in many years. Some things have changed, some things are new and different. But, the original qualities that you admire are still there. Welcome William! And welcome back Alice in Chains!!!

The set list was composed of the following songs (although not in this order). The only way I could remember was to look over my AiC collection.

All Secrets Known (opening song)
Check My Brain
Last of My Kind
Your Decision
Got Me Wrong
Them Bones
Dam That River
Rain When I Die
Sickman
Angry Chair
Nutshell (fitting tribute to Layne)
Acid Bubble
No Excuses
Grind
Again
We Die Young
Man In The Box
Love, Hate, Love (encore 1)
Would? (encore 2)
Rooster (encore 3)


So there you have it. Not only was Black gives Way to Blue a great album but they still put on an outstanding show. Thank you Martin for being my first ever guest writer and Man on the Street:)Please click on the Malastrana link under Devilish Friends and show Martin support for his project.

Here is the best video clip I was able to get from that show and it looks to be approximately in the same location Martin was at for the night. Here is the opening number "All Secrets Known". Enjoy.