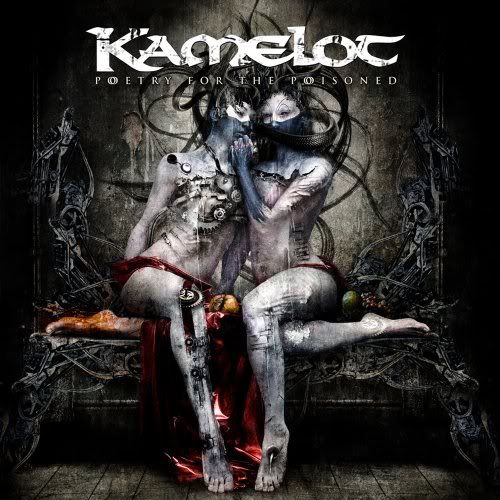 Kamelot is back. Here is my real-time, song by song review of their new CD; Poetry For the Poisoned. I hope it's good.

Ok, so except for The Great Pandemoneom, I haven't heard any of these songs before until this review, and as I go song by song, will be my first experience with them. I'm really hoping for a great album. Black Halo was perfection and Ghost Opera was really great as well, I hope this one can keep up. I've read here and there that this is a really dark album. We'll see.


1. The Great Pandemoneom - Their first release with an amazing and stunningly beautiful video. If this is any hint of how this album is going to be, I am going to be a very, very happy man. Off the get go, it reminds me a LOT of Rule the World off of Ghost Opera. I love the spoken word verses, which is a pleasant departure from what they've put out before. Björn "Speed" Strid guests on this song with guttural vocals complimenting Khan's operatic voice like what was done by Shaggrath on March of Mephisto on Black Halo.
10 out of 10)

2. If Tomorrow Came - Speed!!!! Wow - that intro killed. Khan's voice just gets better and better. I love the contrast here with the super fast rockin' intro to the mellow vocals with the double bass coming and going. This track like the first does not disappoint.
9 out of 10

3. Dear Editor - interesting "scene". They do that once and a while. I would prefer to see than hear. Trippy whatever it is. Just an interlude to the next song I guess.

4. The Zodiac - crazy song. This is the second time I'm hearing this song. The first time I didn't understand what was going on because I wasn't looking at the iPod and thought this was all dear editor. Now that I know it's about a "serial killer" type it makes complete sense. It's a good song. Not as great ad the first two but um sure this will grow on me the more I listen. First impression though. This song has guest vocals from Jon Oliva (Savatage). I'm not a fan enough to have recognized his voice.
6 out of 10

5. Hunter's Season - nice intro. Back to an upbeat cadence here. Great song. Great lyrics. Khan's voice is just beautiful. I really, really like this song. It just screams Kamelot. They do this so well.
9 out of 10

6. House on a Hill - Wow. Stunning intro. Ooh. Simone Simmons (of Epica) is back again, voices complimenting Khan as only hers can. I actually think I love her vocals more on Kamelot songs than I do on Epica's music. She sounds fantastic as usual. I hope to hear some nice harmonizing from them. Either way this song is stellar. I think you get the video to this song with the cd/DVD combo. I hope so because this song is just brilliant. Some nice Spanish guitar at the end. Fantastic.
10 out of 10

7. Necropolis - strong start here. You can really heat Casey beating the hell out of those drums. Lyrics and vocals are amazing again. I have nothing to complain about at all. Solid track. Thomas' solo is fucking incredible. This is a definite head banging fist pumping track. Me likey.
9 out of 10

8. My Train of Thoughts - another interlude here. Here we go. Very theatrical track here. Double bass is back. Good solid song. I have no complaints. Kind of one of those sing from the top of the mountains nspirational songs here. Really good.
8 out of 10

9. Seal of Woven Years - nice opening. Another fast paced track. Wait, it's mellower again. I hear someone singing with Kahn on this one. Interesting vocals. Very out there track. So far the song most unlike the others. Good song.
7 out of 10

10. Part 1: Incubus - love the orchestration. Vocals are soooo good. Crazy little break in there. Sounds like a fucked up carnival or something. Now it's rocking again. Nocturnal intercourse? Yes please.
8 out of 10

11. Part 2: So Long - oh yeah. Here we go The female vocals are so beautiful. Simone Simmons and Amanda Sommerville singing here. Fucking amazing. With all of them working off each other here, it's just stunning. I think this is my fav so far. Just epic.
10 out of 10

12. Part 3: Dissection - rawk!!!! I need to go back and listen to all these songs in order without stopping. Simone and Amanda again. This shit is just fried gold. I can't say enough how awesome these tracks are without sounding repetitive.
10 out of 10

13. Once upon a Time - what can I say. This is signature Kamelot. Also
the first track to remind me of their older work. Like "Farewell" or
something.
9 out of 10

So, there you have it. I've only heard this once and that was distracted with writing as I go. I'm going to have to start over and give it a go without distractions. It's right up there with Black Halo ( my personal fav ). Not saying Its their best yet. I'll give that a few listens first but I can say that this is as close to perfection as you can get. Not every song is a 10 but the whole package is just fucking brilliant. I especially LOVE Poetry for the Poisoned in its entirety, I can't say enough how epic it is.

So, for the whole album I give it a 9.9 out of 10 (for now). I'm sure that number will go up the more I listen to this cd.. I HIGHLY recommend getting it when it comes out.