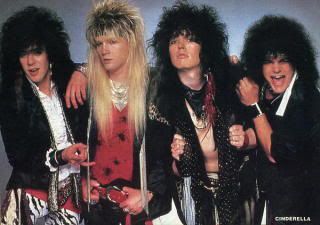 Time to get some hairspray up in here. I never intended to like a hair band. It actually took me 2 or 3 videos by Cinderella to actually get an inclination that I might like their music. So I took a risk and bought Night Songs and yes it paid off. I guess back then if you were going to play blues based hard rock but get noticed you had to glam it up because these guys could do the glam with the best of them. Once their foot was in the door then they could actually play the music they wanted to. And it seemed like every album after there was less glam and more blues.The appeal for me was the raspy vocals from Tom Kiefer that went against the grain from other hair bands and fell more in line with other vocalist I liked at the time like Brian Johnson.

After Heartbreak Station like many bands of that era, Cinderella lost label support and had to go defunct for awhile.They tried a comeback years later with the Still Climbin album but it wasn't nearly as good. I understand they're still together though Tom Kiefer has throat problems that forces cancellations but not being nostalgic of that time I've still stuck with the period of 1986-1990 as being one of the best glam bands out there.After the jump is some videos that show the progression in sound and look.

This is the first video I ever saw and the first time I ever saw the swinging guitar trick.


This was probably one of the first guitar pieces I learned.


Really mainstream here but very grass roots rock.




First video off of Heartbreak Station. You know you've made it when Little Richard cameos. Very country fried song but I like it.