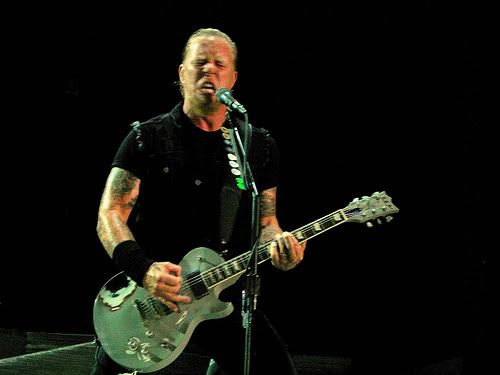 I've said it before and I'll say it again: I'm an ESP guy. I think of the music I listen to I'm most impressed with the pedigree of rock stars that are sponsored by ESP so I couldn't rightly start this feature off with anything else, right?

For my first Axe of the Month I've chosen a guitar i absolutely love and guitarist who I've worshiped since I was in High School. Let me introduce you to James Hetfield's signature ESP EC; the Truckster.

Primer Grey




Black




Here are the stats:
* Set-Neck Construction
* 24.75" Scale
* Mahogany Body
* Maple Top
* Mahogany Neck
* Rosewood Fingerboard
* 42mm Bone Nut
* Thin U Neck Contour
* 22 XJ Frets
* Satin Chrome Hardware
* Sperzel Locking Tuners
* Schaller Straplocks
* Tonepros Locking TOM Bridge & Tailpiece
* EMG 81 (B) / 60 (N) Active p.u.
* Finish: Aged BLKS (Black Satin)

NOTE: Toggle in Upper Position Inactive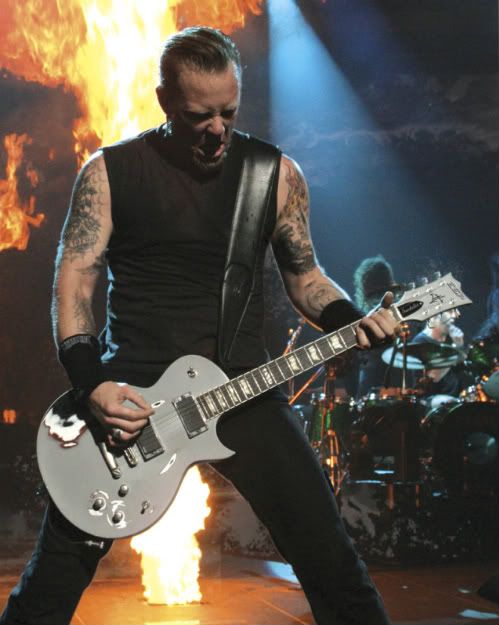 Metallica has been a constant for me for most of my adult life and even though sometimes they put out a lemon or two, I'll always stick with them. The incredible music history they've had far outweighs the mis-steps of recent years. It was one of those moments, like when the clouds roll back and you hear the Heavenly Choir, the moment I first opened the 2010 ESP catalog. There it was on the first page Hetfield and his Truckster.

Since I've really immersed myself in music the past few years I've gotten to learn about the guitars themselves and the variety of styles and brands and in time coming up with what I consider the best.

As I've also mentioned before, my guitars of guitars is Gus G's signature EC-600 but I certainly would not say no to owning this beauty. It's got the Les Paul body I love so much and the primer paint and flames gives this guitar a more ballsy look to it.

According to Sam Ash Direct's online site, you too can own this work of art for only $2249.00 but it retails for $2999.00.

Here's a live video of James playing the black Truckster on "The Outlaw Torn"; arguably the best track on Metallica's Load.





So there you have it; my first of hopefully many posts on my favourite guitars in the world. Keep an eye out for future installments where you'll see a metal menagerie of the greatest Axe's out there: today and yesterday.

If you wanna learn more about this guitar, though I'm sure I've given you enough info you'll know this thing backwards and forwards, check out the Truckster on ESP's Site HERE!







Please visit and spread the word about these Links:


Songs of the Goddess - For and about all things Pagan music.
and
That Devil Music - For the best in Hard Rock and Metal.


That Devil Music's Last FM page!

E-Mail That Devil Music!