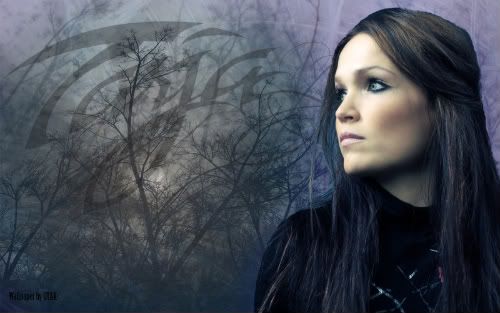 Many of us love Nightwish. For a lot of NW fans out there it was Tarja's operatic siren-song voice that drew us to them and for some people (like our own Rob Liz) Anette Olson's voice just doesn't cut it. So we followed Tarja like the Pied Piper of Hamelin like rats in a row; headbanging all the way to the water's edge.

I really enjoyed Tarja's first solo release My Winter Storm and was right there in the front row when she brought the tour to the Bay Area. I'll even admit, though Rob'll give me shit for it that I even liked her cover of Alice Cooper's "Poison". Ok, there, I said it.

Her new CD, What Lies Beneath is just as epic and out there, taking you from the highest of highs to the lowest of lows; but what really caught my attention was the first track Anteroom of Death. The fist time I heard it I thought to myself - wow, this is weird. The next time I was what the eff?!?! But as time went on the song worked its way into my brain like a cancer and I ended up humming the tune or singing lines from time to time and I found myself hooked.

The next couple times I listened to it was pure pleasure and this once strange song now made perfect sense to me. What turned out to be a bonus that I honestly had no idea about the first few times I listened to it was that my favourite Metal A Capella band Van Canto was responsible for the arrangement and performance of the choir vocals.

You might need to give the song a few listens before you completely write it off, I know I almost did. Just give it a chance and you'll end up loving it and awe at how this crazy tune will grow on you whether you want it to or not.

Here's the song for your listening pleasure.


Tarja - Anteroom Of Death (Feat. Van Canto) found on Metal


You can purchase Tarja's album What Lies Beneath here on iTunes.

Here it is on Amazon if you want the physical copy.







Please visit and spread the word about these Links:


Songs of the Goddess - For and about all things Pagan music.
and
That Devil Music - For the best in Hard Rock and Metal.


That Devil Music's Last FM page!

E-Mail That Devil Music!