For this month's Axe I have chosen a guitar that was just unveiled in early 2011 at NAMM: Joey Jordison's Signature BC Rich Warlock.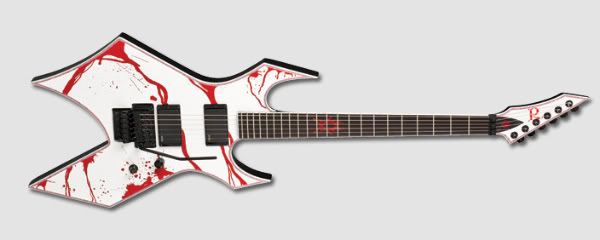 This thing is freakin sick . . . The paint scheme on it is really morbid and as far as blood splatter graphics go, it's one of the best I've ever seen. Aside from the fretboard and the headstock though, I really don't see much of a difference in this warlock from others, but then again, you can say the same about Kerry Kings. This thing looks amazing. It has EMG pickups and a Floyd Rose Original Bridge so I imagine it would sound amazing too.

The biggest shocker to me is that I've always known Jordison to be a drummer, and more-so is Ozzy Osbourne's current drummer and I'm sure Slipnot is still a band too, right? Is being a Guitarist for the Murderdolls enough to warrant a Signature Guitar? Are they that popular?? What do you think? I had always assumed guitar companies only created signature guitars for Guitarists, especially amazing and/or popular guitarists, so this is a first for me.

Either way, enough of my ramblings. Here are the specs for Joey's new Signature BC Rich Warlock:

* Construction: Neck Through
* Body Wood: Mahogany
* Tuners: Grover ®

* Neck Wood: Maple

* Fretboard: Ebony
* Inlay: Murderdolls Insignia
* Frets: 22 jumbo
* Scale: 25.5"

* Bridge Type: Floyd Rose ® Original
* Pickups: EMG ® 85 neck, 81 bridge
* Hardware: Black

* Lefty Available: NO


So, since I couldn't find a video on this bad boy, enjoy this video from the Murderdolls with Joey playing a Warlock: (don't forget to mute it..










Please visit and spread the word about these Links:


Songs of the Goddess - For and about all things Pagan music.
and
That Devil Music - For the best in Hard Rock and Metal.


That Devil Music's Last FM page!

E-Mail That Devil Music!