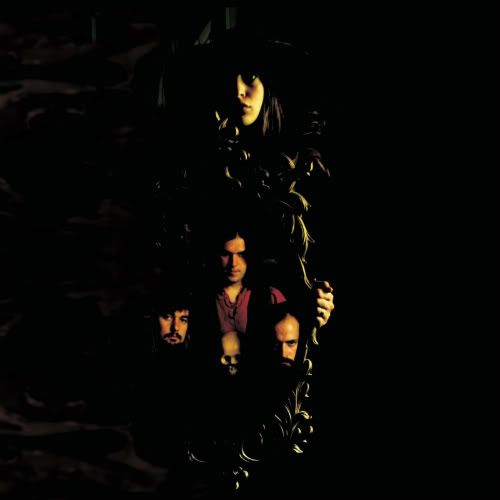 I feel like I've broken through the space/time continuum and much like Sam Beckett or Phineas Bogg (minus the Omni and nerdy sidekick) - I've landed somewhere in the 70's. At least, that's how I felt listening to Blood Ceremony's latest release: Living with the Ancients.

This album is HEAVILY influenced by the best that the 1970's early stages of Heavy Metal had to offer. The guitar riffs, nay - the majority of all the guitar work manifests the styles of the Rock Gods of olde: Tony Iommi and Jimmy Page for example. It's psychedelic, experimental Rock personified.

The lead vocalist, Alia O'Brian at time sounds as if she's been influenced by Robert Plant and Anne Wilson but more often than not you hear her very unique and addictive voice as it grabs your attention and put you under its spell.

Many times throughout Living with the Ancients, O'Brian channels Jethro Tull flute-playing nonce - Ian Anderson: but instead of it coming off as hokey; it's awesome. The last time I enjoyed hearing anything that had to do with a flute it was from Ginger-haired girl next door/band geek pervert Allison Hannigan in American Pie. There's even flute solos and instrumentals, which, if you can get yourself past the fact that they're flute solos - turn out to add a pretty awesome aspect to the songs.

One of the personal bonuses for me is that the majority of the album is influenced by Paganism and the Occult, much like the heavy metal forefathers.

This album is like nothing you've heard before (at least not in a long time) and will be extremely hard to categorize. It's not typically a band we'd talk about on That Devil Music but the very obvious homage to the bands we idolized all those years ago is definitely there.

On top of all that, the song-writing is fantastic, the music is amazingly well crafted and is highly enjoyable to listen to; whether you're on mushrooms or not.

Check this album out for yourselves.

9 Sins out of 10

Here's their song Night of Augury:




If you'd like to get your own copy from Amazon, click here!








Please visit and spread the word about these Links:


Songs of the Goddess - For and about all things Pagan music.
and
That Devil Music - For the best in Hard Rock and Metal.


That Devil Music's Last FM page!

E-Mail That Devil Music!