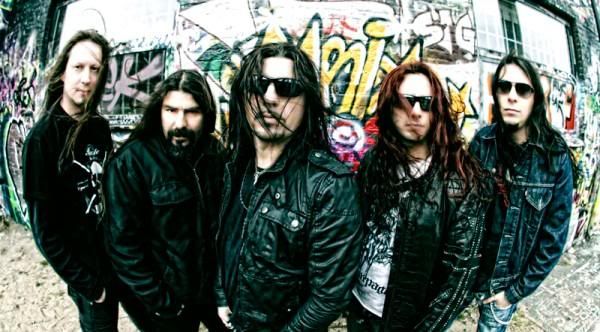 It's kinda ironic how, in listening to an old blog-cast, we talked about what bands we were listening to at the moment. I had mentioned that I was listening to Italian Gothic metal band Domina Noctis and Rob Liz was listening to Greek power metal band Firewind. Well, it's been a few months since then and I haven't listened to Domina Noctis once since and I've gone through Firewind's discography at least a hundred times.

From the point when I first heard their music to now they've gone from an "I've heard of them" band to my second favourite band...ever.

I can't be sure if I can place my finger on one thing that draws me to this band like a moth to a flamethrower. It's most definitely Gus G's mastery of the guitar and the riffs and solos that are just so epic, most bands pale in comparison. Though I don't think I ever hated any of their vocalists and it affected my enjoyment of their music, I really do like Apollo Papathanasio's tone and delivery. He's certainly not the greatest singer in the world (we'll leave that title for Kamelot vocalist Roy Khan) but there is something really enjoyable about it. There's a bit of gruffness to his voice that makes him unique in the power metal community.

The songwriting and musicianship is brilliant and each album has an amazing mixture of up-tempo songs, ballads and roaring instrumentals.

The only real unknown factor for me right now is their new drummer, Michael Ehré who, though he's on the CD in name and is in their latest video, World On Fire their former drummer Mark Cross is the one actually playing on the CD. I'm sure they picked him for a reason as they don't take second class musicians.

Rounding out the troupe is guitarist and keyboardist Bob Katsionis who is so freaking amazing a musician he can play intricate piano and guitar parts at the same time, I mean seriously - it's amazing. Bass is handled by Petros Christo and his bass-lines are always technical and full of bad-assery.

If you have means, definitely pick up their discography, though I would start with Allegiance, The Premonition and their latest release Days of Defiance: as I've mentioned these all feature current vocalist Apollo Papathanasio. Once you get these songs etched into your brains you can go back and check out the other vocalists and enjoy all that Gus G's
creation has to offer.

Here are a few tracks for you to enjoy. Since they didn't start making videos til Allegiance, you're only going to see the current line up (save for Mark Cross) who left after recording Days of Defiance.

Let's start off with my Favourite Firewind song: Falling to Pieces.




















Please visit and spread the word about these Links:


Songs of the Goddess - For and about all things Pagan music.
and
That Devil Music - For the best in Hard Rock and Metal.


That Devil Music's Last FM page!

E-Mail That Devil Music!