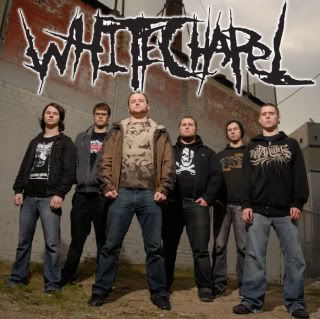 A long time ago someone on the Facebook page told me I needed to write more about bands like Suicide Silence and Whitechapel. Well I'm not sure if that person is still a fan on Facebook but here you go bro. I've finally done it.

So apparently there has been some drama surrounding Whitechapel's drummer leaving the band. He released a statement today on his departure.Check it out after the jump.



"Over the past years I've had the experience of a lifetime and gotten to travel the world with not only a great band of musicians but some of my best friends. Unfortunately that time has come to an end. My playing had a falling out over the past year, thus I've decided to come home for good and go back to school full time. The past few tours I had the privilege of my good friend Gavin Parsons to fill my shoes and now another phenomenal drummer who I believe will do leaps and bounds of improvement to the band as a whole, Ben Harclerode has moved into the position until the decision for a full time drummer has been made. Thank you to everyone for all of your support."

Founding member and guitarist Alex Wade adds: "It's sad to see Kevin go, he was not just a fellow band member, but like a brother to all of us. I think it is honorable of him to step down to better the band. He is still and always will be an amazing drummer and talented musician; I believe it is just time for a new chapter for Whitechapel. That being said we would like to welcome Ben Harclerode (formerly of Knights of the Abyss) to the band to fill the drumming position. In my opinion he is one of the most solid and talented drummers in modern metal and we couldn't be more excited for him to be playing with us. Ben will be helping us out until we take further measures to decide on a permanent drummer, but that is just something that is not needed right now, nor are we taking submissions. Come welcome Ben on our upcoming headliner and watch him shred his kit!"


So there you go. The drummer got as far as he wanted to get with the band which is be popular enough to travel the world and now he wants to be a regular joe. Good for him.I suppose the rest of the band should feel used but honestly I can see more of this kind of thing happening as more people realize the cash cow is coming to a halt on deathcore. Being brutal just to be brutal isn't cutting it anymore as more bands want to actually progress beyond breakdowns,guttural incomprehensible vocals,and guages down to the shoulders.