So here we are, fast approaching the end of 2010 and what a year it was. Some great music was given to our greedy ears, we lost some iconic rockers and there were more WTF moments than you could shake a stick at. Here are some of the events of 2010 that we talked about on That Devil Music and that affected me the most.

To start, back in March I gave to you all my first post. It wasn't groundbreaking or amazing in any right, but it was the spark that started my love affair with blogging.. Thanks Rob for asking me to do this. Here's my firstie.

Losses of 2010: For me, though we had a few casualties this year none was more devastating for me than Ronnie James Dio. That seriously sucked. What's even worse, for me, is the blatant merchandising that's been going on in his name. It seems that a lot of people are afraid to say it, but come on. Do you really have to put Ronnie's name on everything and sell special edition this and that's??? He wasn't in KISS, you know.

The CD of the year was obviously Sully Erna's solo effort, Avalon, though it was more effortless than effort. I'm truly surprised myself though, I LOVED Kamelot's latest release "Poetry For The Poisoned", but this CD is far superior. Seriously, this CD was, is and will always be musical perfection. I hope down the road he continues to put out solo CD's, I just hope they turn out as amazing as this one did. Also I would LOVE to see this live. Sully, dude. Tour this album, you'll sell lots of seats. Trust me.

The Concert of the year (that I attended): Out of all the shows I've been to this year, I think the best all around tour package and event was the Monster Uproar Festival with Disturbed, Avenged Sevenfold, Stone Sour and Halestorm attacking the main stage. Though I wasn't able to stay for the Disturbed set and Stone Sour being absolute crap, what I did see, hear and experience far outweighed what I missed or had to put up with. I haven't been to a large venue and massive show like that in a long time and it was a nice change from the club shows I've been mostly attending as of late. A7X FTW.

The WTF Moment(s) of the year: I have two events I guess you can categorize into the WTF section. One of them is a nation wide what the eff for all of us Americans and the other one is more personal and local, though I have to admit that i really didn't talk much about it here on TDM.

The first one was Kamelot canceling their North American tour. It started out as shock for me, then disappointment, then concern as we waited with baited breath for any kind of word about why this happened and when they'd reschedule. Do you honestly wonder why these European Metal bands come over here and complain that they don't make any money off of it? I think it's because of bullshit like this. Sometimes you have to just do it for the music, guys. Read about it HERE!

Then, after way too long as far as I'm concerned, we get word that the tour was canceled because of Khan's 'burnout' but then Kamelot adds insult to our injury by announcing that they're going to tour Europe again. Fuck you America. That's about what it comes down to.

The second WTF was the announcement from my friends and Sacramento (kick ass) band Aroarah, that their lead singer (and guitarist) Lydia Gavin was walking away. You may remember that Aroarah busted my interview cherry a few months back and I've been a HUGE fan of theirs for a long time now. They still haven't made any official releases on why this happened except that it was not an easy decision for her to make and that her heart wasn't in it anymore. The rest of the band Mackenzie, Chelsea, Morgan and newest member Liani have not made any announcements that they've found a replacement for her, but I think that those are some pretty big heels to fill so it's not going to be easy. I wish them all the best of luck and will continue to be a fan of all these incredibly talented musicians, even though this drastic change has occurred. By the way, you can see and hear the Aroarah interview HERE.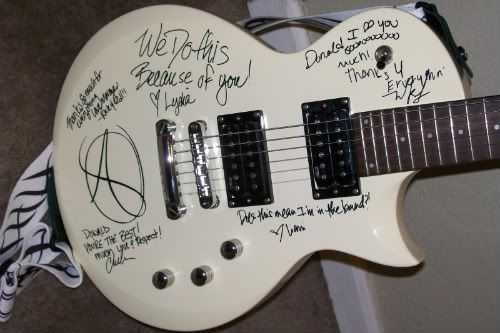 My personal favourite musical moment was just a couple weeks ago. I attended the Epica, Scar Symmetry, Agonist and Blackguard show in San Francisco on the fifth and while there I was able to interview Paul Ablaze, lead singer of Canadian export Blackguard. That was a hugely successful effort on my part and I really think I need to pat myself on the back. Even though I didn't get to all my questions, I really think the time I had with Paul was well worth it. I was able to attain this Q&A without any in, without having to jump through hoops. Paul was amazingly kind, talkative and open about the past and future of the band and I really do appreciate his candor and time. I hope to continue this open communication with him and Blackguard a their careers and popularity continues to prosper. In case you haven't seen them, here are parts one and two of that interview.

Part one:


Part two:



Keep your eyes peeled for future interviews as I have a few more in the works.

Some of my Favourite Rob Liz Posts: The open letters to Robb Flynn and the Therion rant! Hilarious. Though I didn't love their music, the Powerglove interview was stellar! Last but certainly not least, our first TWO podcasts!! The first one, though a little rough, was off to a great start, but the second one was freakin fantastic!! Listen to it here! I certainly can't wait to record the NEXT one! :)


I'd like to personally thank Rob Liz for not only allowing me to be a part of this project and a part of its growth but also for introducing me to this music and these bands in the first place. If it wasn't for him I wouldn't have known just how much I love doing this.

Writing, blogging, concert photography, interviewing these artists and trying my best to entertain you all has become a major part of my life and I am thankful to have these experiences.

Thanks to the readers of That Devil Music, whomever you are, for checking us out and taking in what we have to say. It really does mean a lot to me.

Here's to another year of epic devildom and amazing stories.







Please visit and spread the word about these Links:


Songs of the Goddess - For and about all things Pagan music.
and
That Devil Music - For the best in Hard Rock and Metal.


That Devil Music's Last FM page!

E-Mail That Devil Music!